Stream the new single from Jai Paul
by Samuel Tolzmann on March 30, 2012
Posted in: Uncategorized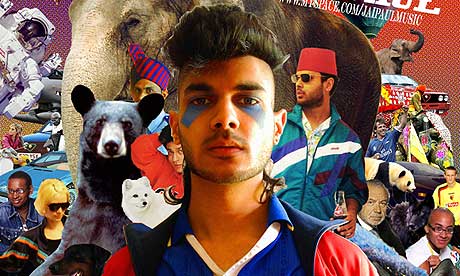 It's been a VERY long time (almost two years!) since the British electro-pop-'n'B artist Jai Paul released his sensational debut, "BTSTU," one of 2010's best songs (or 2011's, depending on whether you're counting the original demo leak, which I was when I wrote "almost two years"). And until today, "BTSTU" was not only Jai Paul's breakout hit, it was his only released recording. But that's changed with today's release of the new single "Jasmine" on the high-profile British independent label XL. "Jasmine" is a stunning follow-up composed of funky guitars, ominous low-end synthesizers, a spartan beat, Paul's trademark sliced-and-diced approach to passionate R&B vocals, and a very ample dose of reverb. The result is an irresistible piece of shadowy, gorgeous, danceable lo-fi pop that's sure to be a 2012 favorite for many, yours truly definitely included. Honestly, it sounds like nothing else (though if I had to make a direct comparison, it'd be a reined-in and drugged-out rendition of Usher's excellent recent Diplo-produced single "Climax"). And while it may not boast the instant-gratification high of the classic "BTSTU," I prooooomise the subtler "Jasmine" is just as addictive and emotionally powerful as its predecessor. Here's hoping this release bodes well for the possibility of a Jai Paul full-length sometime soon; in the meantime, though, "Jasmine" should be enough to last us all another 18 months. It really was worth the wait.
Stream "Jasmine" over at Pretty Much Amazing, and listen to the 2011 edit of "BTSTU" here. Enjoy!
RIYL: Grimes, Purity Ring, James Blake, the Weeknd, the xx, How To Dress Well, Phantogram, Jamie Woon. And Usher. Duh.
UPDATE: Another recent gem is streaming at PMA as well — the totally awesome Shabazz Palaces remix of Spank Rock's new "Car Song," prominently featuring another comeback kid au moment, Santigold. Santi's cold as ice, Spank Rock's mouth has never been filthier, and Shabazz Palaces outfit the track with some seriously menacing bass. Listen up!
One Response to "Stream the new single from Jai Paul"